Morocco, Friday 4 to Friday 25 November 2016, (Moroccan time).
In pictures and short write-ups.
I have more things going on in my head, like the other stuff that happened while I was there- the bombings in Aleppo/ Syria, results of the US presidential elections, life in general,  perhaps for conversations in person.
———-
Friday 4 November 2016
(Only 4 and 5 November day-posts are long post. The rest are quite short, just highlights of the day kinda thing).
Flight from Singapore to Marrakech: I was on the same Qatar Airways flight as Sandeep from WWF. I was the first from the Singapore Youth for Climate Action (SYCA) team of 4 to arrive in Marrakech. The rest would arrive later on Sunday, Tuesday and Wednesday. Sandeep and I had a Friday 2.05am flight from Singapore, and 18.5 hours later with the connecting flight in Doha (where I also met Kelvin from the Malaysian Youth Delegation team) and all, we would reach Marrakech on Friday 2.50pm. Marrakech is 8 hours behind Singapore.
Mobile in Marrakech: Upon exiting the Menara Aiport immigration, we found people giving out free SIM Cards from the Telco: Inwi (this was because of COP22). I took a card and found myself topping up 20 Dirham (around 2 Euros per week) for data. For some reason, my friends could use their phone as per normal while I could only get Facebook messenger, Whatsapp and Twitter function. Later I also realised other people could topup easily using the 'call 120′ function but I could not because me using a Xiaomi Redmi Note 2 China version (I know I should have waited and gotten the Singapore version) was brought to an 'emergency call' feature in China. Note to self to change phones when I can. As it is, this phone blocks out lots of Google apps function and I cannot use things like Google maps easily.
Transportation in Marrakech: For the travel between the airport and my first accommodation, I took a cab which was arranged for by the hostel. For a single trip like that, they charged us (Kelvin and I) 150 Dirham (15 Euros). I honestly thought it was expensive for a 20 minutes ride but went ahead with it because I did not want to waste time finding my way through the alleys later on. Subsequently, whenever I took cabs, it would cost me somewhere between 20 Dirham to 70 Dirham. The small cabs there can only take 3 people, and if you are travelling alone, do not be alarmed to find the taxis picking up other passengers along the way and charging the same amount or even lower from these passengers. There was one night where Lia and I wanted to go from the COP venue to the Climate Concert in El Harti Stadium- the first cab wanted to charge us 500 Dirham (he can f-off seriously), and the second cab which we took with another guy from Canada wanted to charge us 70 Dirham per person, although he already collected some money from the Canadian guy who dropped off like 1 minute earlier from us. This cab driver even locked the door till we paid him off. Lia being the stern person gave him 70 Dirham for 2 persons.  In comparison, when I went to El Jadida, I paid a flat rate of 10 Dirham from the train station to the town centre, and later in my travels I found myself using metred cabs. Likewise in Casablanca, there were metred cabs everywhere. I would later return to Marrakech near the end of my trip and learnt how to take the local bus- regardless of distance, the fare was only 4 Dirham per person.
Accommodation in Marrakech for 4-5 Nov: For my first two nights in Marrakech, I stayed in the same hostel as the Malaysian Youth Delegation; Hotel Aday. 111, Derb Sidi Bouloukat, Riad Zitoune Lakdim – Marrakech 40 000. It is a hostel really. I took a single bed-single room for myself.
Accommodation in Marrakech for 6-19 Nov: The group booking for SYCA would only start on Sunday 6 November; Riad Chennaoui. Riad Zitoune, Jdid Derb Sidi Fares, rue Bahia. We booked a family room for 5 beds but was given a room with 1 queen size bed and 4 single beds. (FYI: We booked  through Airbnb for a family room for 13 nights and split it equally between the 4 of us- so to us we paid for an entire room fully. I brought a friend to stay over one night and was later asked to pay for that friend because the bed was 'not meant for her.'- Just a note to check and clarify arrangements on Airbnb and actual Riad owner).
The hostel and the Riad was about 20 minutes walking distance from each other. The Riad was about 15 minutes walk to Jemaa El Fna, a market place of sorts in Marrakech's Old Medina. Lots of hostels and Riads are located in the Old Medina and within a walking distance to Jemaa El Fna. Meanwhile, most hotels are located to the west of the Old Medina- about 10 minutes taxi ride.
Accommodation in Marrakech for 20 Nov: Crashed friend's hotel room.
Note on accommodation in Marrakech: What I paid for 1 night in that hostel was roughly 60% of the price of what I paid for 1 night in the Riad.  A Riad is a traditional Moroccan house- ours had an indoor courtyard, had 2 sleeping floors (roughly 10 rooms), and a rooftop. Breakfast was provided and the family was very hospitable, as with other Moroccans I met. Meanwhile, I later found out was I paid for the 13 nights at the Riad was equivalent to what a friend staying at a hotel was paying for 1 night, and of course getting the full amenities of a hotel. The point is, there are different types of accommodation and you get what you pay for.
On this note, the SYCA team was self-funded for COP21 held in Paris and COP22 held in Morocco. COP23 will be organised by Fiji and held in Bonn, Germany and COP24 will be hosted by Poland. Sponsors anyone? 😀
Saturday 5 November 2016
Meet Jasmin, Dulanga and Kevin, part of the Malaysian Youth Delegation team. We went to collect our badges on Saturday. Moon Moon and Nacha would join us the next night.
Note the two colours; Pink and Yellow. Pink = Party badges. Yellow = Observer badges. I think it was since last year that the MYD team worked closely with the government team, and this time round supporting their work at COP (like helping to manage the Country Pavilion, and emceeing some of the sessions) and learning about the negotiations (Party Overflow badges still allows one to enter rooms Observer badges cannot). Aside from Malaysia, the only other countries I know who allow youths to come up the Pink badges is Philippines and Brazil, although, I'm sure there's a few others. Additionally, for Philippines, according to Rodne, 60-70% of their Party team is made up of members from the Civil Society, giving technical advice to the team. I think it's fair to say I am thankful Singapore's negotiating team (although I am only aware of 7? .. out of more than 30?) all have a certain academic background/ credential (hello Singapore civil service system) to be able to do their job well.
On this note, on Wednesday 16 November, some members from the Singapore civil society group met with 2 Singapore negotiators, on Friday 18 November, we had a breakfast meetup with Minister Masagos, and on Friday 2 December I had a chat with Emily from MYD 2015 team, and this Pink and Yellow badge/ youths in official delegation team came up. There are various pros and cos and after digesting everything, my personal opinion is a) There should be a distinction between government and civil society, each having a specific role, and free from influence of the other party and b) Both parties could work on better year-long collaboration, and not just towards/ at COP.
On a separate note, I heard some remarks like "Oh Country X spoke up so much last year on ABC but I didn't hear them speaking up this year." Chatting with a youth delegate from Country X later I found out it was because the main negotiator was not at COP22 and that the second negotiator was asked to keep quiet. Whatever the reasons, it reminded me of Yeb Sano who was removed from the Philippines team in COP20 after he made that fantastic speech/ cried/ fasted in COP19. Some negotiators can be quite vocal, and I believe for good reasons, and so it disappoints me slightly to know their governments would ask them to keep quiet and even remove them from the team. (Is this a good thing then that Singapore's negotiating team are all so formal and 'cold'
… ).
(Special separate note: 5th November was also the day when I heard the azan (call to prayers) for the first time in Marrakech. I would hear this a few times the next 2 weeks, on days when I get back from COP to Jemaa El Fna. I would experience later on my 3rd week this trip to Marrakech became a spiritual journey of sorts for me too.)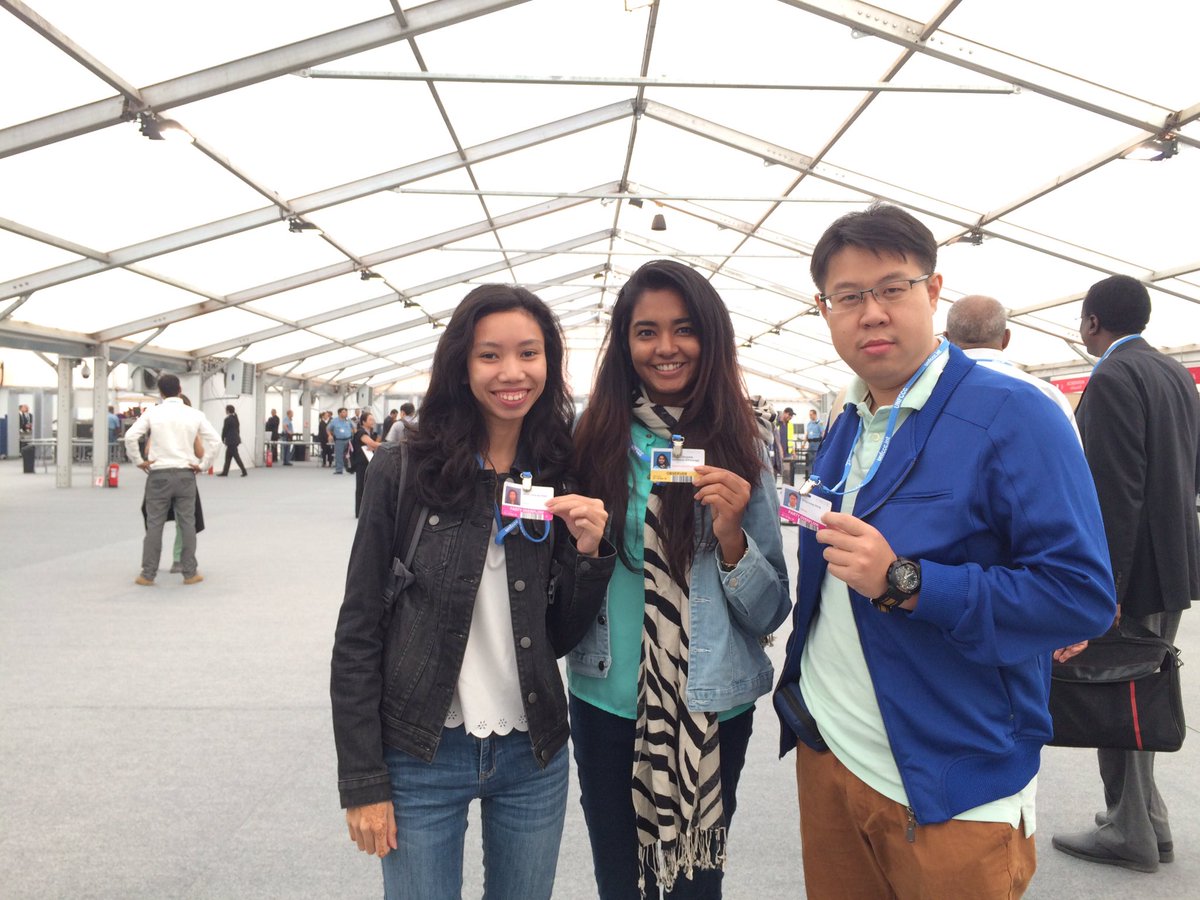 Sunday 6 November 2016
Madhu would arrive later at night. COP22 Moroccan hospitality is amazing. They provided free shuttle service from the Casablanca airport into Marrakech (imagine a 3-4 hours drive from Casablanca, as opposed to 20 mins from the Marrakech airport into Jemaa El Fna), and they even provided free transfers to whatever accommodation one is staying at.  And since our Riad is about a 5 mins walk from the nearest carpark, they even called our Riad to make sure someone was there to pick Madhu up!
Official start date of Week 1 at COP22.
Monday 7 November 2016
Breakfast at the Riad is provided. Each morning, we would be served a) Drinks: Orange Juice, Coffee, Fresh Milk (like I can literally smell it was fresh), Verveine Tea. b) Traditional pancakes: Baghrir (made from Semolina flour), Rghaif (imagine the Indian Prata, but more doughy) c) Dips: Honey, Butter, Apricot jam, d) Bread: The type of bread changes each day.
I had always suspected I am lactose-intolerant; drinking Milo for example, makes me go to the toilet within the hour. I also suspected I am gluten-intolerant; the most obvious episode was when I was in Jakarta two weeks before Marrakech, and for the entire week I was there, I was eating pancakes and breads each morning and had bloated stomach the entire time. The point is, basically, a Moroccan traditional breakfast or food for that matter, oh the couscous!,  was not doing my body any good. In fact, I even vomitted out what looked like milk curds on my second day. However, that did not stop me from eating them anyways. As long as it's not fatal.

Note on COP22 Space: Blue Zone- only people with badges, Green Zone- open to public. Blue Zone is where I will mention things like Negotiations/ Meetings, Side Events, Country Pavilions, Plenary Halls. Green Zone is where I will mention things like Innovation spaces and Civil Society spaces. There's tons of things going on at COP. One just has to be clear why one wants to be at COP and want out of it. For me I wanted to follow APA and on ASEAN issues, as well as build the NGO networks for SYCA, so my highlights will be those things.
Below are some pictures inside the COP venue, at the Blue Zone- only people with badges can enter the Blue Zone.
Green Zone- open to public. I think they tried to control the crowd and imposed a 1 person 2 days entry limit. By the end of week 1 I heard anyone can get badges on the spot to go as and when.
Picture time! Madhu and I with some friends from Taiwan, Malaysia, and Kai Kim, a Singaporean who hasn't really been in Singapore for the longest time!
Tuesday 8 November 2016
Thai country pavilion "cup noodle diplomacy" (term courtesy of Melissa Low).
I have no idea why food inside COP has to be so expensive. On Monday we realised very quickly food was tagged to European prices- cold sandwiches and cold salads was going for 50 and 60 Dirhams, and hot food was going for around 130 Dirham. I had been in Marrakech since Friday and I can easily get a hot panini at a restaurant at 20 Dirham and in the alleys for 10 Dirhams. I had been eating local food, tagines, grilled meats, pizzas and paninis, and everything at Jemaa El Fna was about 1/3 the price at COP.  So on Tuesday, when Madhu and I saw this lady at the Thailand country pavilion with her cup noodles, we knew we had to ask cos a) Singaporeans and cheap food b) ASEAN diplomacy.

Indonesia country pavilion Interfaith dialogue
I have more heart for ASEAN issues and ASEAN country pavilions. I hanged out more at the Malaysian and Indonesia pavilions. COP Blue Zone has their own Side Events yes. Also, Madhu and I realised each Country Pavilions also have their own events which may not be necessarily published online and thus each day we have fun exploring the Country Pavilion areas too.
Tuesday was also the 'urgh' day for me at COP22. Long story short, at COP, in terms of negotiations/ meetings, there's CMP, CMA, SBI, SBSTA and APA. The APA is something that was established when the world adopted the Paris Agreement on Dec 2015. I'm coming from this background where I went for pre Paris, Paris and post-Paris, and so, I was looking out for APA. So,  to know access to APA was restricted was 'urgh'. Also there's 9 NGO Constituencies under UNFCCC, and this year for COP22, a total of 8500 Observer Participants were admitted for the entire two weeks. I personally feel 2 representatives per constituency was ridiculous.
Wednesday 9 November 2016
After finding out access to APA was restricted, I decided focus on Side Events. This was one of the Side Events sessions I went for.
Definition of a Farmer. I've not seen in explained this way before.
Thursday 10 November 2016
COP has thematic days. Week 1 Thursdays at COP is always the Young and Future Generations Day. This was at the Arabian room for "How engaging youth actions are integral to implementing the Paris Agreement and Climate Justice." Supporting Kristina from Japan and Zhinan from China.

Asian Youth at COP22 impromptu lunch meetup at Restaurant 3! Philippines, Taiwanese, Chinese, Japanese, Singapore youth here.
Prior to COP, I had started an excel sheet of Asian youths at COP. Bea from the Philippines initiated this first meetup.
My Baju Melayu (traditional Malay wear) moment with Jasmin from Malaysia.
Kevin and Fossil of the Day awards. I knew of his existence in 2013  at Global Power Shift in Istanbul, Turkey when he was still with 350.org, and have since enjoyed watching him perform.
Friday 11 November 2016
I decided to not go to COP and instead go to the Art Space hosted by 350.org. Being a volunteer Team Manager for 350 Singapore from 2012 to 2015 made me a bit more keen to do this.
So. Technically, I can do a 40 minutes walk (or something like that) from our Riad to the Art Space. But. Because I lost my sense of direction, I decided to take a cab from Jemaa El Fna. I asked the security guards at the bank there and one of them said it was some distance away and I have to take a cab, so I did. That driver then confidently took me to a park next to the COP venue, and that turned out to be an orange plantation.
I then took another cab and this time round the driver brought me back to Jemaa El Fna and pointed me to a small alley and asked me to walk and continue asking people. So I did. For about 30 minutes.
It was only on the day before my flight back to Singapore that I would find out from a local friend that the country had brought in policemen from other parts of Morocco into Marrakech to guard some of these COP-busy areas. She was saying maybe that's why the guard I asked did not really know where to direct me to. In addition, she was also saying they closed down some routes to make it convenient for COP shuttle buses and thus it was difficult for locals to get local buses at times. Logistic hassles of organising COP.
Back to the Art Space which was where I was meant to be at.. 

One of my contribution for the day

Getting the neighbourhood kids to join in
Some youths from Scouts Association dropped by. They also came on Saturday for prep work, and then on Sunday for the Climate March.
Other things happening at the park

Pop-up permaculture workshop
Street theatre that involved everyone. Not sure how regular this is.
"we are on strike until our dignity and rights come back"
I didn't have any background to this. What I could pick out was: Teacher Trainee Graduates are on strike because they are unemployed.
A few things came to mind: Why would a government train thousands of teachers only to not give them jobs? Why would anyone participate in strike and not choose to find alternative jobs? What is the freedom of expression like in Morocco (this strike is one thing, I've also seen people chanting and forming lines)? What would Singaporeans be fighting for, if we had a space like Jemaa El Fna, a square bustling with activities and thousands of people in one night, and if there were no restrictions as we have now?
The Jemaa El Fna square has been an interesting place, filled with food hawkers, goods, musicians, snake charmers with their cobras, adult monkeys (I have no idea what species) and just lots and lots of people, especially on a Friday night.
Sat 12 November 2016
I was at the Art Space again the whole day.
At night, I joined in the Asian Youth at COP22 dinner at Cafe Argana. Liu Jing from China- China Youth for Climate Action Network, studying in the States picked up the bill for everyone. This was like.. Asian diplomacy to the max.
Anyways, this was only half of the group. The other half.. were Chinese youth from Youthink Centre who was studying outside. Some of them were not even 18 years old (from my understanding you have to be at least 18 to go to COP).. so.. hmm they were probably spending time at the Green Zone.
After dinner, some of us went to the annual NGO party organised by Climate Action Network International. This year it was held at Sofitel. As with the last two parties I went to, it was crowded and fun.
Side note: A tall glass of fresh orange juice at Jemaa El Fna cost 4 Dirham. A glass of Minute Maid at Sofitel cost 100 Dirham. I honestly have not experienced such an extreme price difference in Singapore, so this was a shocker to me.
Side side note: I was with the Malaysian team the whole night and it was fun dancing for hours. In the last hour, we ended up at a spot near the exit. I saw some of the Singapore team leaving and shamelessly waved to them.

Sun 13 November 2016
Some photos from the Climate March!
Sandeep and the WWF gang. I saw Manuel Pulgar Vidal whom I knew at COP20 President/ Peru's former environment minister with WWF. It hit me then he is now WWF's head of climate and energy.
Idris and his Scouts Association friends.
I took this pic. Cos. Palm Oil.
Seen at COP22 Climate Justice March: "Women against climate change". Emilia & Martha, part of crew of 50, cycled 1 month from Valentia.
At night. My favourite thing arrived. So.. on Monday when I saw how expensive COP food was, I asked Lia from Indonesia (she was only coming for Week 2 of COP) to bring in cup noodles for us. And she did. I don't know who she stuffed all this + a few other items in her luggage,  but she did. This was another ASEAN cup noodle diplomacy moment.

Ok. So now that I am done with Week 1 of COP.. and moving to Week 2 of COP.. this is me getting overwhelmed, so I'm picking out lots of tweets and embedding them here.
Mon 14 November 2016
Look at front of hall where parties are supposed to seat. Not everyone is here. How comprehensive is this multilateral assessment process? pic.twitter.com/GLU6ygVejo

— Laksa Girl (@norlastrina) November 14, 2016
#DidYouKnow The Royal Belum State Park is more than 130 million years old and is older than the Amazon and Congo Rainforest. 4x size of SG.

— Laksa Girl (@norlastrina) November 14, 2016
Tuesday November 15
Starting the day with #SBI & #SBSTA Closing Plenary, and later CMA Opening Plenary. @norlastrina @madhumithabla @thereswong @mel_yseali pic.twitter.com/jvUbyZBdvq

— SYClimateAction (@syclimateaction) November 15, 2016
Continuing cup noodle diplomacy story. @norlastrina & @madhumithabla enjoying Pop Mie from Indonesia thanks to @Liazakiyyah! pic.twitter.com/iksSOelnrv

— SYClimateAction (@syclimateaction) November 15, 2016
Crowd outside Plenary Marrakech. Parties waiting to enter the hall for the opening of High-Level segment at #COP22

Photo credit: Wei-Hsiang pic.twitter.com/OOY7h0QMxO

— SYClimateAction (@syclimateaction) November 15, 2016
Super proud to have our @norlastrina speak on behalf of @mel_yseali abt SG's climate and energy plans! She rocks (: pic.twitter.com/I7wihGawzt

— SYClimateAction (@syclimateaction) November 15, 2016
Asian Youth at COP22 Dinner at Cafe Dabachi. Thank you Wei-Hsiang from Taiwan for organising!
Wednesday 16 November 2016
First at the Indonesian Pavilion.. apparently Jeff Sachs is a good friend there and has a session every year.
At Indonesia Pavilion this morning. Indonesia's Pak Rachmat Witoelar and @JeffDSachs are here to this morning. #COP22 pic.twitter.com/dcGRLJk56L

— SYClimateAction (@syclimateaction) November 16, 2016
On Trump: "Young ppl will say: Mr President, you are 70 and we are 20 and we care about the future of the planet" – @JeffDSachs #COP22

— madhumithaa (@madhumithabla) November 16, 2016
.@madhumithabla asked how do we move forward with economic polarisation happening? @JeffDSachs says we need to align to SDGs and unite. pic.twitter.com/iM9xdLQS2V

— Laksa Girl (@norlastrina) November 16, 2016
Then, to the High-Level Segment.
Thailand speaking on behalf of G77 and China. Urgent need to enhance pre-2020 ambition. Capacity building support for developing countries. pic.twitter.com/ejguE2juZ4

— Laksa Girl (@norlastrina) November 16, 2016
"Our key task ahead is to expeditiously implement the COP21 rule book" – @MasagosZ

— SYClimateAction (@syclimateaction) November 16, 2016
"SG is a small city-state but we too must play our part in the international community to efficiently implement climate action" @MasagosZ

— SYClimateAction (@syclimateaction) November 16, 2016
"We must recognise forest fires are still plaguing SEA. Protection of forests and peatlands key to climate action" pic.twitter.com/EWtmBnJi8n

— SYClimateAction (@syclimateaction) November 16, 2016
.@MasagosZ delivered Singapore's National Statement at @UNFCCC @COP22 in Marrakech, Morocco. His FB status update: https://t.co/4bdHUNqMUs

— SYClimateAction (@syclimateaction) November 16, 2016
.@MasagosZ delivered Singapore's National Statement at @UNFCCC @COP22 in Marrakech, Morocco. His full speech here: https://t.co/hkOgA2YRqv

— SYClimateAction (@syclimateaction) November 16, 2016
In the late afternoon, we met up with Wei Min from Ministry of Foreign Affairs and Santosh from the National Climate Change Secretariat.
Sincere thanks to Wei Min & Santosh from the Singapore delegation for meeting with Singaporean CSOs at #COP22 this evening pic.twitter.com/c8RlgHJpsA

— SYClimateAction (@syclimateaction) November 16, 2016
Thursday 17 November 2016
Starting our day with the Civil Society farewell for @UN_Spokesperson Ban Ki-moon. #UN #UNFCCC #COP #COP22 pic.twitter.com/YnPOKND6bd

— SYClimateAction (@syclimateaction) November 17, 2016
"Find where your voice and strong commitment matters, for the common good of humanity" – Ban-Ki Moon #COP22 pic.twitter.com/F2n495LqaG

— madhumithaa (@madhumithabla) November 17, 2016
.@IndonesiaCOP22 Pavillion tomorrow, 10.40am. Catch @ChrisWright162 @rjkarunungan @BrourFadoua @CM_Botero @IkaMayaSusanti & @Liazakiyyah! pic.twitter.com/bFzNVGb0pZ

— Laksa Girl (@norlastrina) November 16, 2016
.@ChrisWright162 of @ClimateTracking: Find young people to become communicators in your countries to spread your message. #COP22

— Laksa Girl (@norlastrina) November 17, 2016
.@CM_Botero of Club Botánico Ambiental: Shared 5 environment projects, approaching it from social angle. #COP22 #CambioClimatico

— Laksa Girl (@norlastrina) November 17, 2016
.@BrourFadoua of @aycm: The decisions taken at #ParisAgreement will be implemented by young people. We need to be involved. #COP22

— Laksa Girl (@norlastrina) November 17, 2016
.@IkaMayaSusanti of @YFCCIndonesia: Building relationships among youth is important. What can we do together for our future? #COP22

— Laksa Girl (@norlastrina) November 17, 2016
.@rjkarunungan of @dakila_ph: Youth created engaging videos to talk about coal, influenced politicians, Ludo Coal Plant not approved. #COP22

— Laksa Girl (@norlastrina) November 17, 2016
.@Liazakiyyah of @IndonesiaCOP22: We need more young people, young businessmen, young artists, young architects to take action! #COP22 #2050

— Laksa Girl (@norlastrina) November 17, 2016
At #COP22 Closing Plenary now! Woohoo!

A bit crazy when the schedule says 7pm-11pm. Let's see 😀 pic.twitter.com/A7tEBEkAFk

— SYClimateAction (@syclimateaction) November 17, 2016
Friday 18 November 2016
Singapore CSOs met with Minister @MasagosZ on sidelines of #COP22 in Marrakech & had a lively discussion. https://t.co/7O51AOgcNo pic.twitter.com/pUjNgpTvqC

— SYClimateAction (@syclimateaction) November 18, 2016
Following up on Palestine. Now in Bering waiting for "Main Achievements- future ambitions States of Palestine". #COP22 pic.twitter.com/G20hhWB8Zb

— Laksa Girl (@norlastrina) November 18, 2016
I have an entire thread on Palestine here.
It's near 11pm. And Closing Plenary just resumed. #COP22 pic.twitter.com/YT5yeh6TPo

— SYClimateAction (@syclimateaction) November 18, 2016
The proceeding was a tad hilarous. Check out Climate Tracker's tweets on Friday 18 November (may be seen 19 November if you are reading from Singapore here.
Now that COP has ended, here's the start to the start of travelling and exploring Marrakech a bit more. I also went to El Jadida and Casablanca before coming back to Marrakech for my flight back to Singapore.
Saturday 19 November 2016
The SYCA team checked out of our Riad. Madhu, Cuifen and I went over to Mel's place before heading out to Saadian tomb. After that Madhu had to leave and go back to Mumbai where she has been seconded to past few weeks, and Cuifen went back to the hotel to do some work. Mel and I continued with lunch with Theresa and the three of us then visited Bahia Place.. which is apparently 5 minutes away from our Riad, and for some reason I just did not have time visit past two weeks.
Saadian Tomb is a place which houses the graves of about 60 members of the 16th century Ahmad Al-Mansur royal family, and was only discovered in 1917. Meanwhile, Bahia Place is a palace built in the 19th century with large courtyard and garden spaces. I think if anything, the intricacy of the Moroccan architecture is something to be amazed by. Sadly, most of the information panels are in Arabic and French, and I could not read and appreciate the history behind the places there and there. (And I accidentally deleted pictures from 19 November..)
Side note on ATMs in Morocco: The previous night, I tried withdrawing money from the ATM at COP. It did not dispense any cash, and I received a notification from DBS to say there's a withdrawal. I called DBS and they said the Moroccan bank made an instant refund. OK. Lesson learnt: Do not withdraw money at the end of an event.
The next night I was at Casablanca airport and tried to withdraw money too. Again, it did not dispense any cash, and I received a notification from DBS to say there's a withdrawal. I called DBS and they said this time there's no instant refund- they will help put up a request and this may take up to 50 days. Lesson learnt: Do not withdraw money at an airport on a Sunday night.
This also meant I only had cash from Week 1 and 2 leftover and had to be creative for Week 3.
Sunday 20 November 2016
It was a 10 minutes walk from Mel's hotel to the Marrakech bus station. So.. at the bus station where I arrived around 11.30am, I saw there was a COP22 booth- the one where they provide free shuttle bus from Marrakech to Casablanca airport, but it was empty. I assumed the free shuttle service ended on Saturday. I got myself a train ticket from Marrakech to Casablanca airport for 85 Dirham I think, and had to wait for the 3.30pm bus. I hunged out at the cafe and got out at 3pm to check in my backpack, and luckily saw the COP22 booth open! They helped me get refund for the bus ticket and put me up in a shuttle bus that was a headed out to Casablanca airport at 4pm.
It was about a 3.5 hours bus ride, and I feel so bad right now, but I had a good chat with a delegate from a country I forgot. The point is, he was a student who just finished his Masters, and came to COP under a Party badge (not just Party Overflow), and I was like 'huh, how is that even possible'.. but that's how things are in some other countries.. they're not that.. stringent. I mean, that's a domestic guideline each country would have, sure, just that it made me think more about this differentiation between the Pink badge and the Yellow badge, and the role of individuals at COP.
At Casablanca airport, I got a train ticket to El Jadida, through Casa Voyageurs for 37 Dirham. It was about an hour's journey.
In El Jadida, I stayed with Amina for two nights. This was my first meal at her house.
Monday 21 November 2016
The next day I did some sight-seeing.
El Jadida is a port city. This cistern was built in the 16th century, is 34 metres by 34 metres and is made up of 5 rows of 5 columns. I have no idea why but I spent quite some time down there.
I also walked across the Fort of Magazan. It's this 8 metre high structure, with thick walls and 2 metre wide walkways, along the coast.

Walking along the beach, I saw this church like building "Espace de la Memoire Historique de la Resistance et de la Liberation". I recognised Memorial, History,  Resistance and Liberation. The entire first floor had photographs and artifacts I can only admire.
I had lunch outside and was back home by afternoon. The entire time I was in Marrakech and eating out, I would always see men sitting at the cafes, drinking tea and looking out to the passerby, and I would always wonder- where are the women? At Amina's house, I had my first 'women congregation experience' which would also become part of my unexpected spiritual journey in Morocco.
So, Amina's house is huge, and basically when I was there I had the entire 2nd floor to myself. When I got back, there were more than 10 women in the 2nd floor living room. By the end of the afternoon it became to about 20 women. The women were gathered there for a weekly 'majlis'. In Singapore/ Malay culture context, I associate the word with 'majlis persandingan' – wedding / celebration. I didn't understand her when she said this. Then she pointed out it's an Arabic term, and in that culture/ religious context, it means a special gathering with a purpose. And for them, they were using her family's house as a gathering to share religious teachings- each week is different, and for that Monday, a lady would share stories from the Prophet, and the rest would 'zikir' – short prayers where you recite repeatedly, sometimes silently, sometimes allowed. I joined them for about an hour- Amina would help translate the Arabic sharings to English.
I also wondered why they have to do this in the house and not at the mosque. Amina shared that in Morocco, access to mosque has been restricted for some years now- it is only open during prayer times. It was a way to prevent people from using the mosque to spread extreme ideas about Islam. Thus, people who genuinely wanted to share the teachings of Islam got creative and for those who can, opened up their houses to such majlis.
Two thoughts went in my head then; a) The two weeks in Marrakech before coming to El Jadida, I have seen so many kinds of Moroccans, for women specifically, those who are dressed in abayas, hijabs, and those in tight revealing clothes. I also met someone whom I later found out organised the first kissing event in Morocco. To see such a diverse people profile in Morocco was amazing, and it felt like at the end of the day, people are respectful of each other. b) To realise access to mosques in Morocco is restricted, and here I am in Singapore not even remembering when was the last time I entered my neighbourhood mosque, when the mosques are there for use, was me mind-boggling myself.
Tuesday 22 November 2016
I left El Jadida in the afternoon and took the train out to Casa Voyageurs, reaching Casablanca in the evening. It was a case of bad timing, but I could only meet Miguel around 11pm.
While waiting for Miguel for about 4 hours, I hanged out at Extrablatt Bistro- I had sandwich, fries, two pots of tea, and creme brulee the size of my face for about 137 Dirham. That's when I realised I was probably spending too much on food, and that's why I'm getting fat now, but that's another story. I think halfway I became conscious there were more men in that place because they were watching a football match.. and most of them were only drinking tea. I also left my 13 Dirham change for the waiter who tended to me those 4 hours- Miguel mentioned later 2-3 Dirham would have sufficed. For me back then, it was more of a 'pay what I think I should pay' kind of mentality. On hindsight, it may have seen extravagant. Chatting with Jie Hui back in Singapore on Friday 2 December, it just feels like one of those things where as much as I complain how I cannot keep up with the standard of living in Singapore, I still count myself lucky for being born here (lottery or destiny), and being able to travel out and still survive in other places. And I probably should be more conscious of myself when I'm outside.
Wednesday 23 November 2016
In Casablanca, I visited the Hassan II Mosque and the Old Medina.
Funny stuff, but things happened to me the weeks leading up to this Morocco trip. I even met up with Ibnur's mum days before leaving for Morocco, and she passed me a 'How to Pray' book and a mini Quran with English translation.. which I did not touch until that Monday I was at Amina's house. Anyhow, the last time I prayed was probably when I was 12 years old.  At my 27 years of age, I did my Zohor at Hassan II Mosque. And this is me being me and still counting sins in my head.
The walls in the Old Medina in Casablanca is painted, some in dual colours, some with murals.
Thursday 24 November 2016
Thursday morning I left Casablanca to go back to Marrakech. I was texting Idris and he linked me up with Maryam and Fatima Zahra- the two girls were also at the Art Space on 11 and 12 November.. but I did not remember them.. yikes!
Anyhow, it was lunchtime when I arrived. We went over to Maryam's aunt's place first. This was where I had my second 'women congregation experience'. Maryam's aunts and aunties were there. Apparently they have this weekly thing where they get together to have lunch.. I joined in at the right time. Heh -_-"
We had about 10 women sharing couscous from this humongous plate.. and the older ones tried teaching me how to eat with my hands, only to have me share we do the same in the Malay culture! (Oops. #EatWithHandsInSG is now sort of dormant). What was interesting was how they balled up the couscous to they do not fall down easily in between our fingers. I also liked how one person would go around with the water jug before and after the meal for us to wash our hands, and the fact that there was only 1 glass going around for everyone to drink from. So.. minimalist, and makes sense- there is not much to wash after that. Also, I noticed that the food table was covered with plastic, so it was easy to scrape off food from there later. Similarly at Fatima Zahra's house the next day, we had breakfast straight from the table. Just so practical.
In Morocco, most people speak Arabic and French, and chances are for the younger generation who goes to University, they speak English fluently. Maryam, Fatima Zahra and I had a bit too much fun talking about random stuff in English when the older ones asked us questions in Arabic. Whoops. On this note, I am reminded of the 6 official UN languages- Arabic, Chinese, English, French, Russian and Spanish. Whenever one of the Moroccan youth apologised to me for not speaking good English, I apologise back to say I cannot speak Arabic and French, and if anything they should use that to their advantage to work for UN.
At Fatima Zahra's house.. the Moroccans somehow build their houses with communal use or guest space in mind.. I was staying on the 1st floor. I have a few nice clear pictures, but I thought I select this and show how useful their sofas are. So, I've been to Amina's, Maryam's and now Fatima Zahra's house (not counting Miguel because he is a Portugese living in a rented modern apartment), and I see this same thing- sofas as long as the living room walls, with thick pads and fat pillows. I was amazed when I first saw it at Amina's house- they can even take off the seating blanket layer and put it on the floor so the women group can use it as protection from the cold marble tiles. And now at Fatima Zahra's house I saw how it can be transformed to a bed. I'm just taken in by the Moroccan hospitality and now easily awed with the whole Moroccan culture, I count myself lucky to be let into their private homes to join in some of their activities and live like them too.
Friday 25 November 2016
The morning I left Marrakech, Maryam (left of picture) and Fatima Zahra (right of picture) let me try some of the traditional Moroccan wear!
The brown one is a traditional robe called the Djellaba, while the blue one is a Moroccan Keftan (their traditional dress). Also, because Fatima Zahra is ethnically a Berber, she has this head piece to go with it too. We had some photoshoot moments too. (We look so similar, I would not have guessed they're Moroccans and would probably think they are Malays too if I did not know them.)
Blessed to have met everyone I met in Morocco.
So there, my three weeks in Morocco.
It has been a week since I got back to Singapore. I think I'm a bit more settled down now, and will be back on track tomorrow.
For more photos, that may seem random, view them on Flickr.